See on Scoop.it – Social Media for Learning and teaching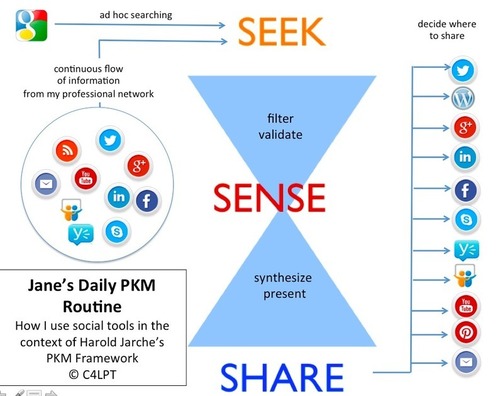 Harold Jarche is a leading authority on Personal Knowledge Management, which he describes as a set of processes, individually constructed, to help each of us make sense of our world, and work more effectively. He has developed a popular Seek-Sense-Share framework which identifies the 3 key elements of PKM (see diagram on the right).
Harold writes about PKM continuously in his blog, and has also helped thousands of people worldwide use this framework in his very popular online workshops, which he runs privately for organisations or publically.
I have talked and written a lot about the use of social media for professional learning, and in particular how social tools have transformed the way I work and learn.
I was recently asked how my own use of social media fits onto Harold's PKM framework. So I came up with this diagram which shows my own daily PKM routine.
Zhang Meilan's insight:
Jane Hart依照Harlod Jarche的"个人知识管理"要素图,作出了自己的在线知识管理图。个人知识管理三步骤:搜寻、理解(过滤、赋予意义)、分享。从图中可以看出Jane Hart的主要个人网络(获取信息的主要来源)包括:Twitter, RSS, Google+, email, YouTube, LinkedIn, Slideshare, Facebook, Yammer, Skype,(似乎内容策展工具她并没有经常使用,或许是因为那些工具是经过他人过滤的信息,而Jane要做的是自己过滤第一手资料?)。她分享的工具出了上述社会网络外,还包括:Pinterest,Wordpress。
See on www.c4lpt.co.uk